Plate Heat Exchanger NORDIC Ba-23-40 3/4" 165kW
Plate Heat Exchanger
for heating technology, cooling and solar technology
NORDIC TEC

Model: NT Ba-23-40

40 plates
Connections: 3/4" BSP
Heat Exchange Area: 0.920m²
Reference: NT Ba-23-40
Condition New
Heat Exchanger

Nordic Tec Ba-23-40
4x 3/4", 40 plates
Technical information:
Plates:

Soldering:

Recommended Pressure:

General Test Pressure:

Temperature Span:

Flow (nominal)

PHE Volume (per single channel)

Space between the plates

Stainless Steel S316L

With 99.9% Copper

Till 20 bar

20 - 40 bar

-195°C / +230 °C

4 m³/h

1.60 l

2.0 - 2.2 mm

Heat Exchange Surface - 0.920 m²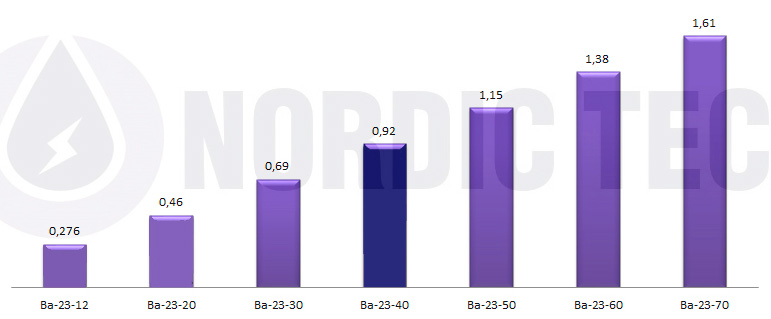 Plate size and device size:

(A) - 315 mm
(B) - 73 mm
(F) - 97 mm
(C) - 278 mm
(D) - 40 mm


In DOWNLOAD section you get the data sheet of the unit.
More information about the possible applications of a Plate Heat Exchanger Ba-23-40:
Having 40 plates with 0.023m² per each plate - the PHE Ba-23-40 has quite a big exchange area, which is almost 1m². It would be enough to heat up the builing of 300-350m², however it is limited by the flowrate as this serie has the connections of DN20 (3/4" threads). This is a very good solution for the low temperature heating device, for example if the biggest part of our house is equipped with an underfloor heating.
Thanks to the shape (relatively long plate), it is a very good choice for cooling applications of different types. It is used so as a component of a passive cooling system (using heat pump installation), where the big surface of a HE can quickly neutralize the presence of glicol. Another cooling application is oil cooling in industrail machines.
Another quite unexpected application for the model Ba-23-40 - it's homebrewing. The enthusiasts of home beer production use this unit to cool down the worth after having it boiled. Ba-23-40 can be an excellent solution for the sessions which are between 40 and 70 l of beer worth per one session. For the smaller sessions, like up to 30-35 l - you can freely use the 30-plate unit (Ba-23-30).
Customers who bought this product also bought:
Customers who bought this product also bought: