B-LINE POOL Heat Exchangers
Pool heat exchangers by Nordic Tec  - made of Stainless steel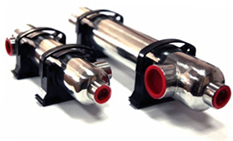 Tubular exchangers or so called "shell & tube" units. They are mainly intended for swimming pools and large water tanks, in systems where continuous and massive water circulation takes place. A significant advantage is low pressure loss compared to plate heat exchangers and the lack of use of copper welding. B-Line heat exchangers by Nordic Tec are entirely built of stainless steel.
Designed for swimming pools with not salted water. If you are looking for a heat exchanger for salt or sea water - you need a titanium heat exchanger.
You don't know which pool exchanger to choose for your application - contact our service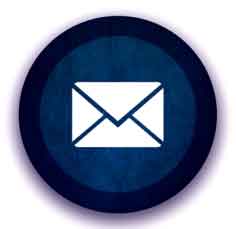 more
Heat exchangers for swimming pools - stainless steel pool heat exchanger
Shell & tube heat exchangers are devices used, among other things, for heating water in pools, spas, and large water reservoirs. Models of HE made of stainless steel are among the most popular options available on the market. Pool heat exchangers are high-quality products made of materials that guarantee efficiency and durability. These devices operate based on a high flow rate of water. Constructed with numerous tubes made of a material with good thermal conductivity (such as steel), they enable efficient heat transfer from the heating system to the pool water. Using a heat exchanger for pool water is very simple, low-maintenance, almost no service - and convenient. It is an excellent solution for people who want to have constant access to a comfortable swimming pool without the need to heat the water before each use. The stainless steel pool heat exchanger is also easy to clean, as it has a design that prevents the build-up of scale and impurities, unlike plate heat exchangers.
Heat exchangers for heating water in pools - Nordic Tec Europe
In the online store Nordictec-store.com, you will find high-quality stainless steel heat exchangers made of acid-resistant 316L steel for heating water in pools. Our products are reliable and robust, guaranteeing long-lasting use. The pool heat exchangers available here allow for quick and effective heating of water to the desired temperature. Our offer includes various models of heat exchangers for swimming pools to provide Customers with the best selection for their specific pool needs. You will find pool heat exchangers ranging from 16 kW, perfect for heating water in small water tanks, jacuzzi, whirlpool, small ones with a capacity of up to 5-15 m³, to over 1000 kW, which will be suitable for big pools with a capacity of up to 1000 m3. At Nordictec-store.com - we guarantee professional advice and technical support at every stage of choosing and installing heat exchangers for pools. We invite you to explore our range and purchase a heat exchanger for your pool water that will perfectly suit your needs.
Steel heat exchanger for swimming pool - application
A steel heat exchanger for a swimming pool is an effective solution that, when properly selected, enables quick and efficient heating of pool water. The device is made of high-quality stainless steel, which ensures not only durability but also worry-free usage - without the risk of mechanical damage. Steel heat exchangers for swimming pools are increasingly being used not only in private garden pools but also in public and hotel pools. Models available at Nordictec-store.com effectively cooperate even with highly chlorinated water. Heat exchanger for a swimming pool is an excellent solution for people who value comfort and care about the environment. A pool heat exchanger can be powered by hot water from the boiler or any other heat source, inlcuing solar installations, heat pumps, or other low-maintenance heat sources. Therefore, installing a steel heat exchanger in your pool system allows you to enjoy a pleasant water temperature every day.
Pool heat exchanger - not only made of stainless steel
The pool heat exchangers available at Nordictec-store.com are devices manufactured from high-quality stainless steel that is resistant to the corrosive effects of high chlorine concentrations. This material ensures that the heat exchangers are highly durable and reliable throughout many years of use. However, stainless steel heat exchangers should not be used with saltwater or brine. In such cases, it is necessary to use heat exchangers made of titanium.
Steel heat exchangers for swimming pools efficiently transfer thermal energy from the heating system, allowing for effective and rapid heating of pool water. Moreover, these devices are highly efficient and enable energy savings, resulting in reduced pool operation costs. In Nordic Tec Europe we offer various models of steel heat exchangers for swimming pools, which differ in power and efficiency, ensuring that every Customer can find a suitable device - for his needs.
A stainless steel heat exchanger for heating pool water - advantages:
A stainless steel heat exchanger is an excellent solution for pools - that require a water heating system. This material is known for its exceptional durability and resistance, allowing the heat exchanger to operate for many years. Additionally, stainless steel is easy to keep clean and hygienic - even when in contact with chlorinated water. The pool heat exchangers available at Nordictec-store.com operate with high efficiency, allowing for potential savings on heating energy costs. Our offered solutions include shell & tube heat exchangers, which facilitate highly efficient heat exchange between the pool water and the heat transfer medium in the heating system, resulting in rapid and effective pool water heating. Moreover, they offer high flow rates with low pressure drops and have a compact size. Stainless steel heat exchangers are also easy to install and have low maintenance requirements, making them an ideal choice for both small and large pools.
How to size a stainless steel pool heat exchanger?
When choosing a pool heat exchanger, it is important to consider the following factors:
Heat exchanger capacity in kW: Determine the size of your pool and the heat supply, as it will affect the required heat exchanger capacity. Larger pools will require higher capacity heat exchangers for efficient heating.

Suggested pool volume: Check the product specifications provided with the pool heat exchangers for the suggested pool volume that a particular model can handle. However, keep in mind that these values are approximate and based on favorable operating conditions.

Connection size: Consider the size of the connections for the heat exchanger, both on the shell and tube sides, to ensure compatibility with your existing plumbing system.

Material of construction: For pools with non-saltwater, stainless steel heat exchangers are an excellent choice due to their durability and resistance to corrosion. However, if you have a pool with saltwater or high salinity, it is recommended to opt for a titanium heat exchanger.

Operational requirements: Check if the pool heat exchanger requires regular maintenance or cleaning. Some models may have self-cleaning features or require periodic inspections.
Operation of steel heat exchangers for the swimming pool
Installation of a steel pool heat exchanger separates the pool water from the heating medium, significantly enhancing the comfort of pool usage. In order for the device to fulfill its function effectively, it is essential to select it properly, taking into account the capabilities of the heat source (boiler, solar panel, or heat pump). Whether we are talking about small backyard pools or larger swimming facilities - the utilization of pool heat exchangers is straightforward and follows the following principles:
Protect the pool heat exchanger from clogging by using filters at both the pool water inlet and the heating medium inlet.

If possible, utilize special pool covers that minimize heat loss to the surroundings when the pool is not in use, such as during nighttime.

Monitor the efficiency of the pool heat exchangers by using water thermometers.

To guarantee trouble-free operation, ensure regular cleaning and maintenance of the device.