Plate Heat Exchanger NORDIC Ba-23-30 3/4" 125kW
Heat Exchanger for HVAC solutions
Nordic Tec Ba-23-30
4x 3/4", 30 plates
Technical details:

- Stainless Steel S316L, brazed with 99,9% Cu
- Working Pressure - 0-20 bar
- Test Pressure - 20-40 bar
- Temperature: Max. +230°C
- Flowrate - 4 m³/h


Heat Exchange Surface - 0.690 m²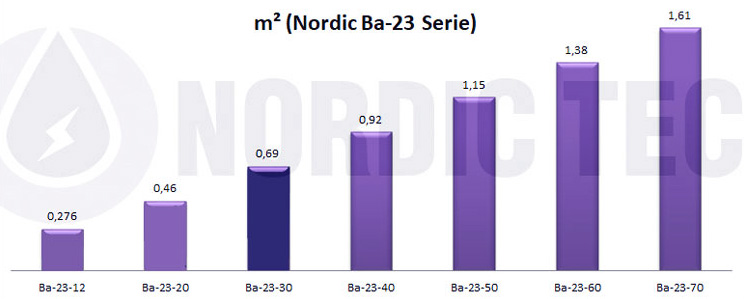 Plate Heat Exchanger Ba-23-30 with 30 plates - by Nordic Tec
One of the most popular PHE model on the market. Excellent choice for the system which heats the buildings up to 200-250 square meters, for example using condensing boilers or any other heating device operating on the similar temperatures (arround 45°C - 60°C), except heat pumps to which we recommend bigger plate surface.
The unit Ba-23-30 is also an excellent solution in homebrewing. It has a capacity which is ideal for small home brewing sessions, like 30-50 litres of worth per one time. Thanks to quite a decent surface it doesn't require any bigger volume of cooling water. The material S316 is permitted to work in a food industry, so it is quite often sold a beer chiller for home brewing enthusiasts.
If you need any technical assistance or you'd prefer to confirm the sizing - write us

Device sizes: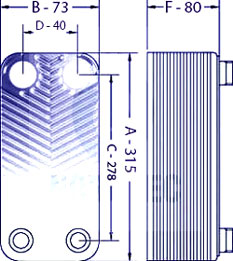 In DOWNLOAD section you get the data sheet of the unit.
________________
The most common use of the Plate Heat Exchanger Ba-23-30:
- connecting fireplace installation (with a fireplace up to approx. 20-24kW)
- DHW system with a buffer tank (adding an additional heat source)
- installation powered by a gas furnace with a capacity of approx. 20-24kW
- solar panels with glycol
- home brewing, for the cooling of beer wort - this model is the classic dimension of wort cooler for typical homebrewing sessions up to 40-50l of wort
- industrial refrigeration, with oil or another fluid

One of the most popular heat exchangers, very often used in typical residential facilities up to 200-250 m2.
Customers who bought this product also bought:
Customers who bought this product also bought: