Thermal Insulation IZ-Ba-12-30
Thermal Insulation IZ-Ba-12-30 for Plate Heat Exchangers
Material: Polipropylen
Destinated for the model:
Insulation is designed for heat exchangers by NORDIC TEC, it's not universal and doesn't fit to other producers' goods.
Reference: IZ-Ba-12-30
Condition New
Insulation Jacket for PHE

Nordic Tec IZ-Ba-12-30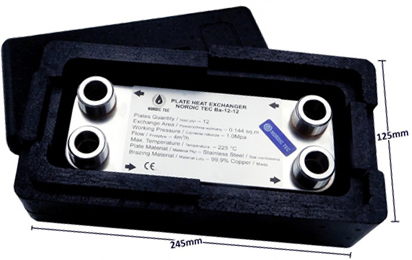 For what we use the insulation jackets for Heat Exchanger

?
The main goal here is to limit the heat loses. Not insulated plate heat exchanger loses some heat, which is something natural. Using insulations helps us to create an efficient central heating system without unnecessery heat loses. The installation is very easy and doesn't require any plumbnig service.