Plate Heat Exchanger NORDIC Ba-23-60 3/4" 255kW
60 Plate Heat Exchanger NORDIC TEC Ba-23-60
Plate Q'ty: 60 pcs.
Connections: 3/4" BSP
Heat Exchange Area: 1.380m²
Reference: NT Ba-23-60
Condition New
BPHE by Nordic Tec -
Brazed Plate Heat Exchanger with 60 plates and 3/4" threads

Nordic Tec Ba-23-60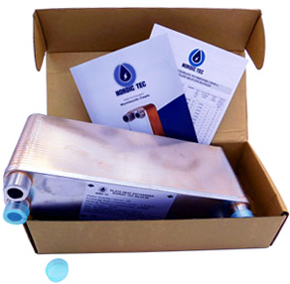 Technical details:

Stainless Steel S316L, brazed with 99,9% Cu

Connections: 4x 3/4", BSP

Working Pressure - <20 bar

Test Pressure - 40 bar

Max. temperature +230°C

Flowrate - 4 m³/h

Heat Transfer Surface - the key sizing parameter of a plate exchanger -

1.380 m²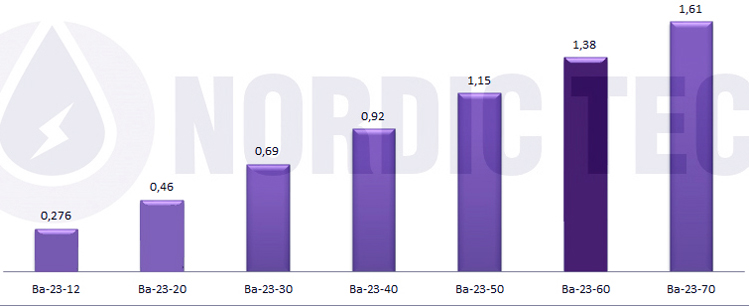 The heat transfer area of 1.38m² is already suitable to handle a building with an area of several hundred square meters. So this 60 plate exchanger can work with both larger heating boilers and even some Heat Pumps. It should be remembered - however, that this 60 plate exchanger has 3/4" connections, which means that it is rather dedicated to heating systems requiring not very large flows - but a relatively large exchange area. It can be a great plate exchanger for the heat pumps of a specific row, e.g. 6 - 8 kw.
For the above reasons - this Brazed Plate Heat Exchanger can also be used as an oil cooler or in similar applications of industrial refrigeration.

Dimensions: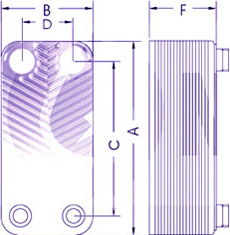 (A) - 315 mm
(B) - 73 mm
(F) - 147 mm
(C) - 278 mm
(D) - 40 mm


In DOWNLOAD section you get the data sheet of the unit.
__________________
Optional accessories - thermal insulation jacket and wall-mounting kit for a plate exchanger Ba-23-60
The Nordic Tec BA-23-60 plate exchanger can be purchased optionally with a wall mounting handle (which also contains a set of screws that can be derived at any angle). If you are an installer - this is a huge time saving for you. Check our solution for mounting heat exchangers.
Traditionally, there is also a thermal insulation box dedicated to it.
The wall-mounting kit by Nordic Tec is designed for a quick, easy & secure installation of plate heat exchanger on the wall - includes all the elements to ensure stable and quiet operation of the heat exchanger. The kit is suitable for Ba-23 series plate heat exchangers and allows for space-saving installation in various heating systems.
Customers who bought this product also bought:
Customers who bought this product also bought: