Plate Heat Exchanger NORDIC Ba-12-20 3/4" 45kW
Plate Heat Exchanger for heating systems
NORDIC TEC
Model: NT Ba-12-20


Plate Q'ty: 20 pcs.
Connections: 3/4" BSP
Heat Exchange Area: 0.24m²
Reference: NT Ba-12-20 3/4
Condition New
Heat Exchanger - HE
Nordic Tec Ba-12-20

4x 3/4", 20 plates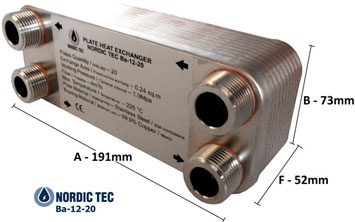 Technical details:

- Stainless Steel S316L, brazed with 99,9% Cu

- Connections: 4x 3/4", BSP

- Working Pressure - <10 bar

- Test Pressure - 20 bar

- Max. temperature +230°C

- Flowrate - 4 m³/h

- Heat Exchange Surface - 0.240 m²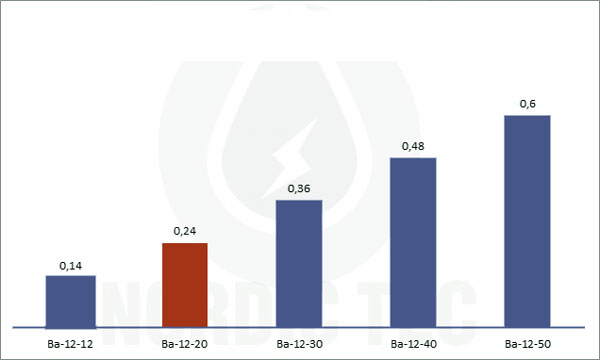 Dimensions: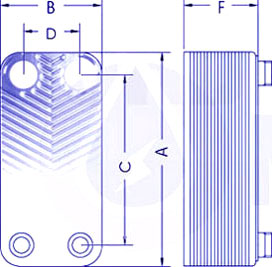 (A) - 191 mm
(B) - 73 mm
(F) - 52 mm
(C) - 154 mm
(D) - 40 mm


How it works? How does a Plate Heat Exchanger or PHE works in heating system?
Plate heat exchangers by Nordic Tec optimise temperature transfer between 2 fluids. The steel plates have only 0.3 mm of thickness to make this process easier. Additionally the plates of exchangers are corrugated. In the serie of PHE Ba-12 by Nordic Tec the heat exchange surface per one single plate is 0.012m². The unit Ba-12-20 consists of 20 plates, which make together the surface 0.24m². The heat transfer surface is the key for the correct sizing of the device and the sizing itself should be done by the professional.

This heat exchanger is in most cases, because of its rather small dimensions, not destinated for heating houses in a whole - but it is a good choice for connecting additional circles to the existing central heating systems.
If you got any technical questions about PHE - feel free to contact us

___________________________________


How to clean the heat exchanger in central heating installations and how often?
It is recommended to clean plate heat exchangers at least once a year. During installation, it is best to separate the exchanger from the installation using shut-off valves. This way, we can disconnect it from the installation without draining the water from the heating system, and removing the exchanger for cleaning - or replacing it with a new one sooner or later will be necessary. If we don't think about it during installation, we need to drain the water from the installation and remove the exchanger.
After removing the exchanger from the installation, it should be filled with a descaling agent and left overnight. If this method is used at least once a year - and the exchanger is properly sized - the device should last for at least several years. After this period, it will need to be replaced with a new one.
Customers who bought this product also bought:
Customers who bought this product also bought: