Plate Heat Exchanger NORDIC Ba-12-50 3/4" 100kW
Plate Heat Exchanger for central heating & domestic hot water
NORDIC TEC
Model: NT Ba-12-50 3/4"

Plate Q'ty: 50 pcs.
Connections: 3/4" BSP
Heat Exchange Area: 0.60m²
Reference: NT Ba-12-50
Condition New
Heat Exchanger (HE) for heating systems

Nordic Tec Ba-12-50
4x 3/4", 50 plates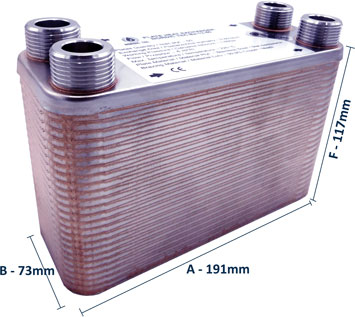 Technical details:

- Stainless Steel S316L, brazed with 99,9% Cu

- Connections: 4x 3/4", BSP

- Working Pressure - <10 bar

- Test Pressure - 20 bar

- Max. temperature +230°C

- Flowrate - 4 m³/h

- Heat Exchange Surface - 0.600 m²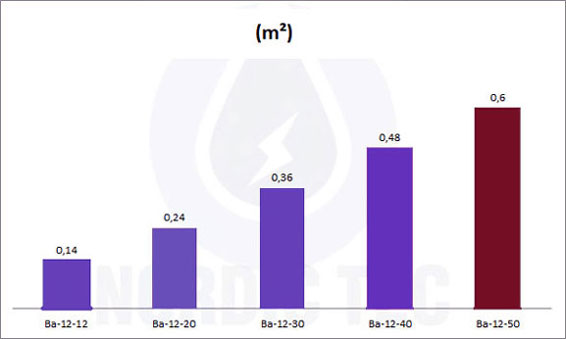 Dimensions: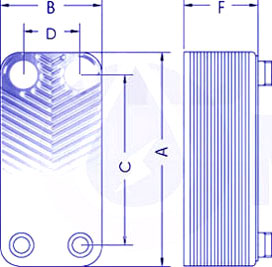 (A) - 191 mm
(B) - 73 mm
(F) - 117 mm
(C) - 154 mm
(D) - 40 mm
More about Plate Heat Exchanger Ba-12-50 by Nordic.
This is the unit which is quite compact but still has quite a big heat exchanger surface of 0.60m2. This is the figure which is enough to cooperate for example with a gas boiler 20-24kW or heat up the building of cca 200m2. This is the biggest unit from the serie Ba-12. If you need something with a bigger surface, we suggest to check the serie Ba-23, which has bigger plate.
In industrial applications, the Ba-12-50 exchanger will work especially well because of the specific shape - a narrow and not very long plate with more plates, which is often an advantage where models with larger plate do not fit. It can also work in oil refrigeration.


Customers who bought this product also bought:
Customers who bought this product also bought: