Plate Heat Exchanger NORDIC Ba-12-40 3/4" 85kW
Plate Heat Exchanger with 40 plates / Inox
NORDIC TEC Ba-12-40


Plate Q'ty: 40 pcs.
Connections: 3/4" BSP
Heat Exchange Area: 0.48m²
Reference: NT Ba-12-40
Condition New
Heat Exchanger (BPHE)
Nordic Tec Ba-12-40
4x 3/4", 40 plates
Technical details:
Stainless Steel S316L, brazed with 99,9% Cu

Connections: 4x 3/4", BSP

Working Pressure - <10 bar, Tested with 20 bar

Max. temperature +230°C

Nominal flowrate - 4 m³/h




Heat Exchange Surface -

0.480 m²




.
Sizing of a plate heat exchanger for a heating system, with the most common heating devices
If you are about to size the correct device for your fireplace, gas boiler or any other heat source working with similar temperatures (45-60oC) we suggest you to hold on to the converter 0.25-0.3m² of heat exchange area for 10kW of the device. The 40-plate model from the serie Ba-12 can work excellent way with similar devices (pellet, biomass, wood, coal, solid fuel as well) - when they are about 15-19kW.

This PHE is not a good choice for a Heat Pump - this type of heat sources requires much bigger plate surface.
The surface of the plates in the plate exchanger is the most important selection parameter and it says how efficient this model is in comparison to other units. If you are looking for an exchanger for a gas furnace or other type of heating boiler-then the 40-plenty Ba-12-40 model is appropriate, provided that they are devices with a capacity of around 16-19kW. If you select a fireplace or other more inert device based on a water jacket and working in an open system-Ba-12-40 will safely handle a 16-17 kW device.

This model is also suitable if you need to connect an electric or electrode furnace. In this case, the most important parameter of selection is the area of the heated surface - this model will easily heat the house up to 150 m² or even 180 in the case of newer construction. If we plan to use the heat exchanger to connect the electrode boiler - it should be remembered that you should give up water treatment with salt.

Dimensions: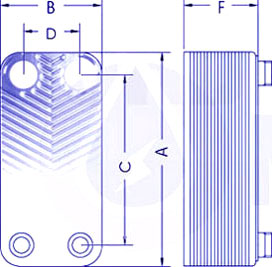 (A) - 191 mm
(B) - 73 mm
(F) - 97 mm
(C) - 154 mm
(D) - 40 mm

In DOWNLOAD section you get the data sheet of the unit.
How does a PHE work in a heating or cooling installation?
A plate heat exchanger consists of thin steel pl
at
es that are placed paralel one above the other. It forms series of channels for fluids to flow in spaces between the PHE plates. Flowing through the exchangers both fluids just exchange the temperatures, without mixing them. The key is to size the unit correctly up to your needs, with the heat exchange surface big enough.
Customers who bought this product also bought:
Customers who bought this product also bought: