Cut-off valves SET with thermometers - DN25 1" (2 pcs.)
Set - 2 pcs - shut-off valves with a thermometer
Size: DN 25 1 "
The set includes 2 valves (blue and red) and 2 thermometers

Valve material: chrome plated brass
The valve thread includes a gasket.
Reference: ZKT DN25
Condition
Set of shut-off valves with thermometers, in size 1"
dedicated for heat exchangers, heating manifolds, descalers, water filters and other HVAC and water equipment
The set includes 2 pcs of valves in intuitive colors - red and blue.
Each valve includes a thermometer that can be used on either side of the valve.
The set is universal, it can be used in cooperation with various hydraulic devices, where at some point it may be justified to cut them off from the system (for example for servicing), without getting rid of the water from the entire system. Additionally, the fact that the valve is connected to a thermometer allows us to control the temperature of the flows in important places of the installation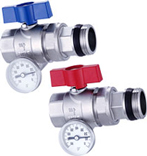 Application example - installed before a heat exchanger - to enable a PHE service or cleaning without draining the water from a central heating system
Valves with temperature measurement are recommended for installations including plate heat exchangers, as they enable control of their operation and help to detect any problems with the heat exchanger getting stuck or limescale (also after many years) or to detect installation errors, errors resulting from incorrect selection of the device, etc. due to the fact that most of the problems with the heat exchanger are manifested precisely by a drop of temperature downstream the exchanger and an increase in heat loss on the device.
In the event of problems with the plate heat exchanger, the valve allows you to cut off the exchanger without getting rid of water from the system - thus saving costs and time. The device can then be easily cleaned and checked for leaks.
Please note that the ball valve we offer has a thread size of 1" - so it is dedicated to exchangers of the same size.
Application example - Central Heating manifolds
The valve with thermometers will work great with heating manifolds, especially underfloor heating, where the temperature control of medium that goes to the installation gives a lot of comfort. Every modern underfloor heating should have the measurement of the medium supplying the floor - regardless of the information on the boiler or the thermostatic head.
Customers who bought this product also bought:
Customers who bought this product also bought: