Underfloor Heating Manifold UFH Manifold NORDIC TEC 4 circuits
Central Heating Manifold Fully Equiped -
4 circuits
Material - MS Brass
Work pressure/Test pressure <6/10 bar
Circle connection for Pex - BSP 3/4"
Optionally with fittings Eurokonus 3/4x16mm
Ball valves dimenions - BSP 1"
Including all the elements as on the photoes.
Experience reliable and efficient underfloor heating with the Nordic Tec 4-circuit UFH Manifold. Our well-designed UFH manifold ensures optimal heat distribution for 4 circuits of your underfloor heating system -  providing you with consistent warmth.The UFH manifold kit is complete - which means it includes essential components like flow meters, shut-off valves, and 2 thermometers ensuring precise control over your heating system.
Installing the Nordic Tec UFH Manifolds is straightforward - simple and easy, the kit contains all what is needed.  It allows you to easily adjust the heat flow in different areas of your undefloor heating. With this high-quality central heaging manifold for 4 heating circuits you can enjoy efficient  heating throughout your home. Trust in Nordic Tec for top-notch heating solutions. And .. if you got any questions - just contact us.
We are official Nordic Tec e-shop - We deliver our goods in every country in Europe in relatively quick time.
Reference: PL-RD-CO-4
Condition New
Floor Heating Manifold by Nordic Tec -
4 ports



including all the elements which are on the photo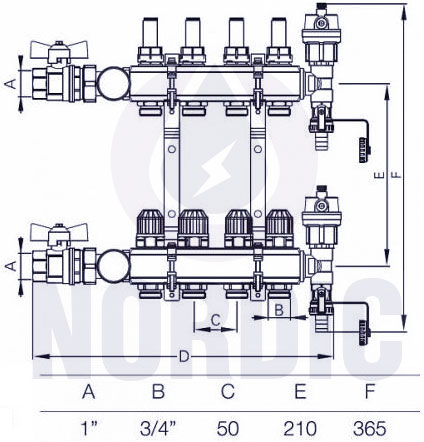 D = 425mm
Technical details:
- Chrome-plated brass Ms
- Working pressure up to 6 bar (tested with 10 bar pressure)
- Connections for PEX: 3/4
- Supply connection - 1 "
- Maximum working temperature: up to + 90 °C
4 Way Underfloor Heating Manifold | nordictec-store.com

This 4 way underfloor heating distributor has 4 heating circuits, which means it can connect 4 independent heating sections. It can be used not only with underfloor heating, but also with traditional radiators and is a good choice for both options. If 4 heating circuits are not sufficient for your heating system, you can find larger distributors of the same type with the same accessories in our store.
These central heating manifolds by Nordic Tec are available in versions with 2 to 12 heating circuits.
Will this UFH manifold serve its purpose in my installation?
What to look for when choosing an under floor heating manifold in addition to the amount of heating circuits?
What gives me the equipment of the above manifold?
Basically, all manufacturers offer underfloor heating manifolds or collectors with a similar design, consisting of beams that distribute the medium to a specific number of sections. Apart from the issue of questionable quality of heating distributor parts on the market, we should focus on the equipment. A definitely important element that will save a lot of trouble is an air vent, or otherwise an air vent valve. In our sets, it is included in every kit, so you don't have to buy it separately. In the case of not using an air vent on the heating manifold, it should be applied somewhere nearby - ask your installer about it if you are not able to locate it.
An additional feature of underfloor heating manifold is a set of rotameters, which are flow meters that allow us to check the flow of fluids. They are not necessary for the proper operation of the underfloor heating system, but we suggest purchasing a distributor with flow meters if we want to have the ability to quickly diagnose any problems with a particular loop (after all, we plan to use underfloor heating for many years).
Another important element is the shut-off valve for the underfloor heating manifold. In our kit, it takes the form of a butterfly valve with a 1" diameter, which is additionally equipped with thermometers. Temperature measurement is also not necessary, but it can be very convenient and helpful. However, it is absolutely worth remembering that the manifold should have a valve (on each side) that can be shut off from the rest of the installation without draining water from it - whether in case of modifications, servicing, or failures, etc. Solid manifolds rarely break down, but it should be remembered that they are supposed to work for many years and, after all, they also contain plastic elements such as the flow meter.
Heating manifolds 4 way - brass or steel? What to choose?
Steel is, of course, a more expensive and valued material for underfloor heating manifolds than brass. However, many installers believe that the super resistance of steel is not a special advantage in a sealed underfloor heating installation, which is simply not a harmful environment for this type of equipment. These conditions are quite safe, harmless - so it does not seem that investing in material advertised as more durable is justified.

Taking into account the large price difference between the steel manifold and the brass counterpart - for this price we gain the advantage of durability, which, unfortunately, will not be noticed in practice. In contact with mains water, pretreated, in a rather device-friendly closed system, much cheaper brass achieves a durability similar to that of much more expensive steel. Devices offered by us are made of brass + additionally covered with a layer of chrome to increase durability. We do not offer steel manifolds, but it is not worth canceling them out - they can be used in systems with extremely weak water, and in open, radiator systems. However, we advise against plastic manifolds, their advantage is only the price.
Customers who bought this product also bought:
Customers who bought this product also bought: