Plate Heat Exchanger NORDIC Ba-60-40 1 1/4" 440kW
Plate Heat Exchanger
NORDIC TEC
Model: NT Ba-60-40

Plate Q'ty: 40 pcs.
Connections: 1 1/4" BSP
Heat Exchange Area: 2.400m²
Reference: NT Ba-60-40
Condition New
Heat Exchanger
Nordic Tec Ba-60-40
4x 1 1/4", 40 plates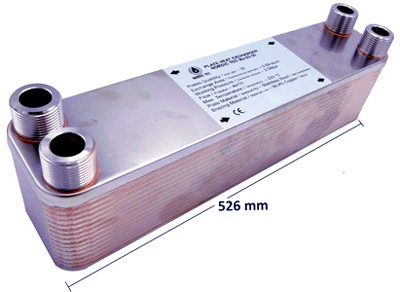 Technical details:

Stainless Steel S316L, brazed with 99,9% Cu
Connections: 4x 5/4", BSP
Working Pressure - <30 bar
Test Pressure - 45-60 bar
Max. temperature +230°C
Flowrate - 22 m³/h



Heat Exchange Surface - of Ba-60 Plate Exchanger series - and Ba-60-40 PHE unit -
2.40 m²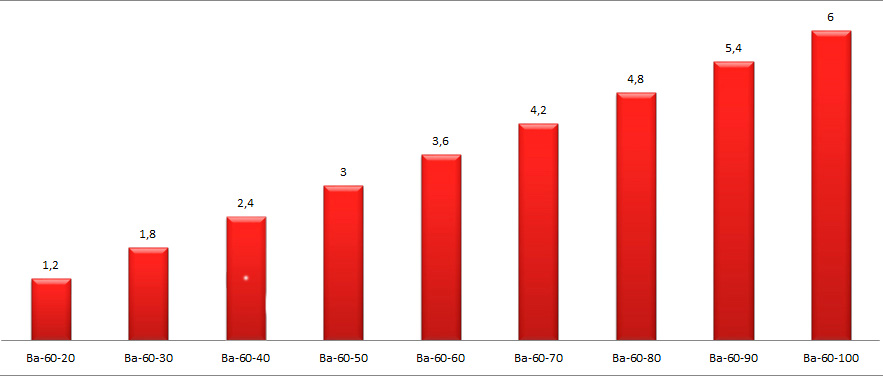 The heat exchange surface area is the most important and only objective factor that determines the efficiency of a heat exchanger. The above model of heat exchanger has 40 steel plates, each with a surface area of 0.60m², totaling 2.40m². This is a surface area that allows for cooperation with numerous models of heat pumps, if they need to be connected to central heating (e.g. in a glycol/water or water/water system). If you need a heat exchanger with a larger surface area, you can find additional models from the Ba-60 series in the above diagram, which are also available in our store.

Dimensions: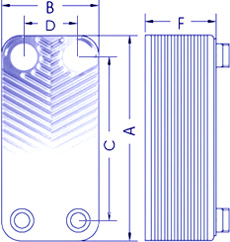 (A) - 526 mm
(B) - 124 mm
(F) - 105 mm
(C) - 478 mm
(D) - 73 mm
Connecting a heat pump using a 40-plate heat exchanger by Nordic Tec
The above heat exchanger is very often used to connect a heat pump working on glycol with a central heating system (which works on water). The 40-plate model is perfect for this due to the fairly large heat transfer surface - i.e. 2.40 m2.
In practice, 40-plate heat exchanger can handle heat pumps from 10 to 20 kW - and it depends primarily on the supply temperature of the system by the heat pump. It should be remembered that heating systems in which the heat pump is to operate at extremely low temperatures (e.g. based on underfloor heating) require a larger heat exchanger than systems powered by high temperature (e.g. based on radiators).
Customers who bought this product also bought:
Customers who bought this product also bought: