Plate Heat Exchanger NORDIC Ba-32-30 1" 175kW
Plate Heat Exchanger

NORDIC TEC

Model: NT Ba-32-30


Plate Q'ty: 30 pcs.
Connections: 1" BSP
Heat Exchange Area: 0.960m²
Reference: NT Ba-32-30
Condition New
Heat Exchanger

Nordic Tec Ba-32-30
4x 1", 30 plates
Technical details:

Stainless Steel S316L, brazed with Cu

Connections: 4x 1", BSP

Working Pressure - <30 bar
Test Pressure - 45-60 bar

Max. temperature +230°C

Flowrate - 12 m³/h


Heat Exchange Surface - 0.960 m²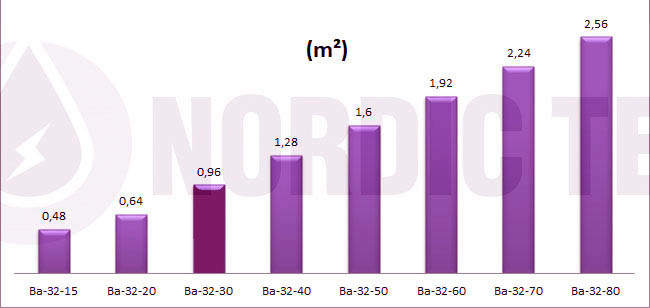 In DOWNLOAD section you get the data sheet of the unit.
Brazed Plate Heat Exchanger construction

A PHE is a flow device - that is, it only works when water flows through it or other medium that we have in the installation, e.g. glycol. It is not a tank because it does not accumulate water. This is an advantage, because it allows you to maintain a small size of the device.

In fact, it is a very simple design - it is a package of steel plates that are combined with each other, using the so-called vacuum soldering. It is a modern way to combine materials with a huge advantage over traditional welding. It takes place at a temperature of over 400 °C (although vacuum soldering can achieve temperatures of up to 900 °C) and takes place in specially created conditions without air.
Customers who bought this product also bought:
Customers who bought this product also bought: