Plate Heat Exchanger NORDIC Ba-60-20 1 1/4" 220kW
PHE - Heat Exchanger with 20 plates / 5/4"
NORDIC TEC
Model: NT Ba-60-20

Plates Number: 20 pcs.
Connections: 1 1/4" BSP
Heat Exchange Area: 1.200m²
Reference: NT Ba-60-20
Condition New
Heat Exchanger for Heating or Cooling
Nordic Tec Ba-60-20
4x 1 1/4", 20 plates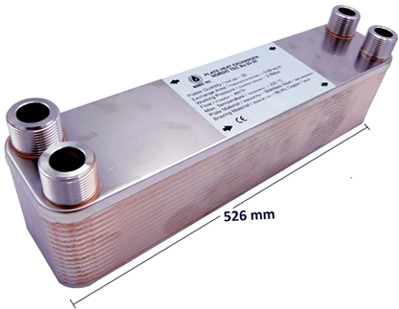 Technical details:



Stainless Steel S316L, brazed with 99,9% Cu
Connections: 4x 5/4", BSP
Working Pressure - <30 bar
Test Pressure - 45-60 bar
Max. temperature +230°C
Flowrate - 22 m³/h


Heat Exchange Surface of the heat exchanger -
1.200 m²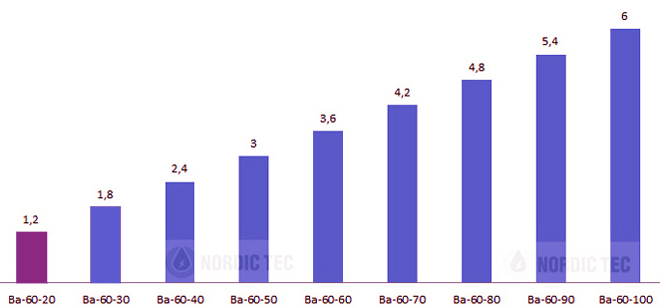 As you can see in the graph above, the Ba-60-20 heat exchanger is the smallest of the Ba-60 series. If your application requires an active heat exchange area of more than 1.20 square meters - choose a PHE with more plates to achieve a correspondingly larger total area. Remember that the heat transfer area is a crucial factor to define the heat exchanger's real capacity and compare with other units.

Dimensions:
_____________________________________________________________
The Nordic Tec Ba-60-20 heat exchanger - what systems is it used for in practice?
This plate heat exchanger is often chosen for cooling applications due to its relatively large external surface area in relation to the plate surface area, making it well-suited for this purpose. However, this does not mean that it is solely a cooling heat exchanger; it also performs well in heating applications. Nordic heat exchangers are generally designed to be versatile and work effectively in both applications. The Ba-60-20 heat exchanger is a 20-plate model with a 1 1/4" connection. It can easily handle a boiler with a heating capacity of up to 40-50 kW or heat a large residential property with an area of up to 400-500 m².
20-plate heat exchanger - how is it built and what are the advantages of this PHE?
Like the entire Nordic Tec Ba-60 series, this 20-plate heat exchanger is based on a large, expansive steel plate that is 0.4mm thick and has a surface area of 0.060m² per individual plate. For this reason, it can be used not only in residential buildings but also in large commercial properties. An additional advantage is its high flow rate, which is enormous when compared to other models with similar power. The nominal flow rate of the plate construction is calculated to be <22,000 l/h.
Customers who bought this product also bought:
Customers who bought this product also bought: