Plate Heat Exchanger NORDIC Ba-12-30 3/4" 65kW
Brazed 30-Plate Heat Exchanger
NORDIC TEC
Model: NT Ba-12-30

Plate Q'ty: 30 pcs.
Connections: 3/4" BSP
Heat Exchange Area: 0.36m²
Reference: NT Ba-12-30
Condition New
Heat Exchanger
Nordic Tec Ba-12-30
4x 3/4", with 30 plates
The 30-plate version of a Heat Exchanger Ba-12 by Nordic Tec. Look below to check the technical data.


Technical details:

- Stainless Steel S316L, brazed with 99,9% Cu

- Connections: 4x 3/4", BSP

- Working Pressure - <10 bar

- Test Pressure - 20 bar

- Max. temperature +230°C

- Flowrate - 4 m³/h

- Heat Exchange Surface - 0.360 m²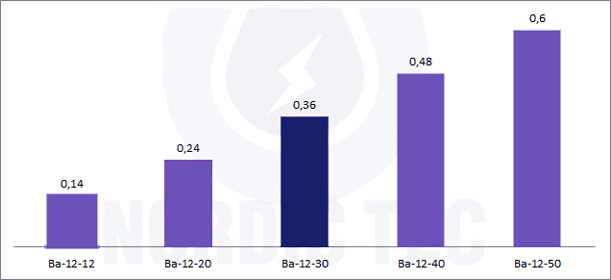 The Heat Exchanger Ba-12-30 model by Nordic Tec in practise:
The surface of the 0.36m² plates is large enough, e.g. to connect the open and sealed system, when we want to connect, for example, a fireplace with a 12 kW water jacket, similar to connecting small boilers (for example eco-pea coal or gas with a power of 12 - 14 kW). The 30-plate heat exchanger Ba-12-30 can also work with electric stoves - where it will successfully heat a house/apartment with an area of up to 120m².

The heat exchanger due to too small size is not intended to operate the entire central heating in large residential facilities, but it can possibly operate small single-family houses or apartment.

Dimensions: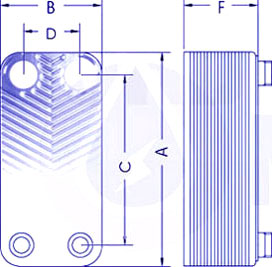 (A) - 191 mm
(B) - 73 mm
(F) - 75 mm
(C) - 154 mm
(D) - 40 mm
Customers who bought this product also bought:
Customers who bought this product also bought: