Plate Heat Exchanger NORDIC Ba-23-12 3/4" 55kW
12-Plate Heat Exchanger
NORDIC TEC

NT Ba-23-12 Slim

Plate Q'ty: 12 pcs.
Connections: 3/4" BSP
Heat Exchange Area: 0.276m²
Reference: NT Ba-23-12
Condition New
Heat Exchanger

Nordic Tec Ba-23-12
4x 3/4", 12 plates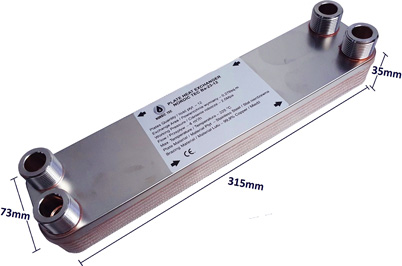 Technical details:

- Stainless Steel S316L, brazed with 99,9% Cu
- Connections: 4x 3/4", BSP
- Working Pressure - <20 bar
- Test Pressure - 40 bar
- Max. temperature +230°C
- Flowrate - 4 m³/h
Heat Exchange Surface -

0.276 m²





The most common applications of PHE Nordic Tec Ba-23-12:
- fireplace installation with a water jacket up to about 10kW
- central heating installations in small facilities up to 120 m²
- cooperation with heating boilers or burners with a water jacket up to 12kW
- Connecting new heating loops with glycol in facilities with a high risk of freezing, e.g. separate outbuildings, workshops or garages up to about 100 m²
- glycol installations of parking lots, driveways, roofs, balconies, terraces
- DHW installations with a tank (additional heat source)
- solar panels
- home brewing, cooling of beer wort,
- industrial refrigeration, e.g. oil cooling

Dimensions:


(A) - 315 mm
(B) - 73 mm
(F) - 35 mm
(C) - 278 mm
(D) - 40 mm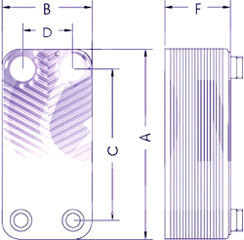 In DOWNLOAD section you get the data sheet of the unit.




Customers who bought this product also bought:
Customers who bought this product also bought: