Plate Heat Exchanger NORDIC Ba-16-12 1" 50kW
Plate Heat Exchanger

NORDIC TEC
Model: NT Ba-16-12


Plate Q'ty: 12 pcs.
Connections: 1" BSP
Heat Exchange Area: 0.192m²
Reference: NT Ba-16-12
Condition New
Heat Exchanger
Nordic Tec Ba-16-12
4x 1", 12 plates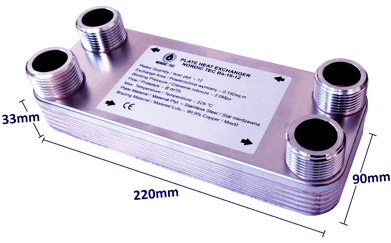 More parameters:
- Made of:

- Connectors / Threads:

- Working Pressure -

- Test Pressure -

- Max. temperature -

- Flowrate -

- Heat Exchange Surface - 
- Stainless Steel S316L, brazed with 99,9% Cu

- 4x 1", BSP

- <20 bar

- Test Pressure - <40 bar

- +230°C

- 8 m³/h

-

0.192 m²
pc na węgiel 20kW
Dimensions: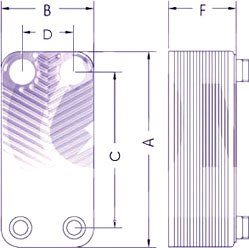 (A) - 220 mm
(B) - 90 mm
(F) - 33 mm
(C) - 180 mm
(D) - 52 mm
__________________________________
Brazed Plate Heat Exchanger Ba-16-12 by Nordic Tec - description:
This is the smallest exchanger in the manufacturer's offer among exchangers with connections 1". It works in systems where a large heat exchange area is not needed, while an important factor is the possibility of using a relatively high flow level. The nominal capacity of the device is up to 8 m3/h. An example of using an additional circuit to an existing installation per 1", e.g. a circulation flooded with glycol, such as an additional garage or an outbuilding - assuming that we do not want to narrow the installation on the warm side by installing the exchanger with 3/4". The unusuality of the Ba-16-12 model consists in connecting 1 inch connections (characteristic of larger models) with a relatively small thermal transfer surface -0.192 m². Although mathematically, it is small, it will easily heat, for example, an outbuilding with a size of 60-100m².
If you have questions or would like to verify the selection of a heat exchanger - we invite you to the "Contact" tab

Customers who bought this product also bought:
Customers who bought this product also bought: