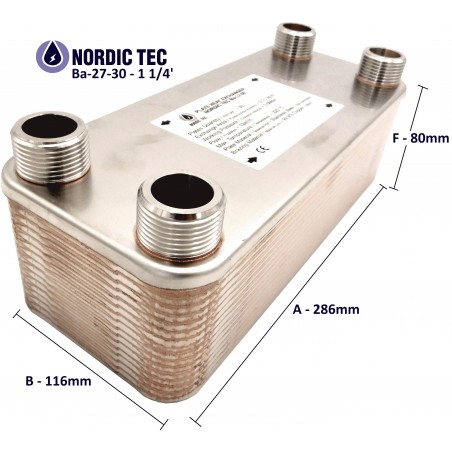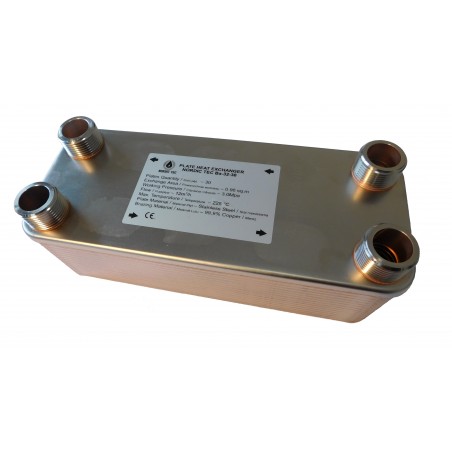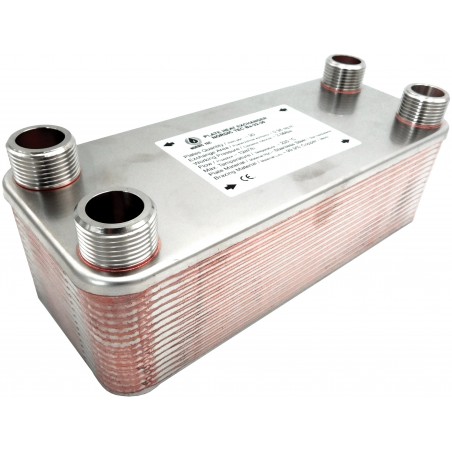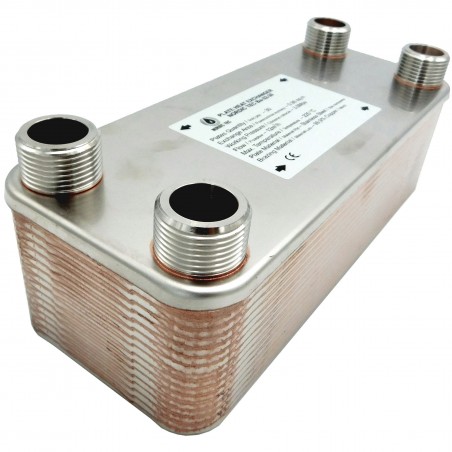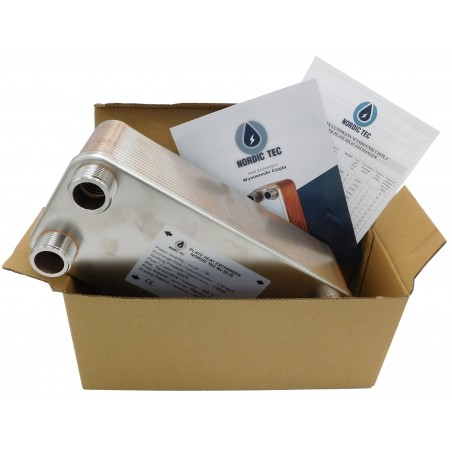 Plate Heat Exchanger NORDIC Ba-27-30 1 1/4" 175kW
Nordic Tec PHE - Plate Heat Exchanger for heating / cooling
Model: NT Ba-27-30

Plate Q'ty: 30 pcs.
Connections: 1 1/4" BSP
Heat Exchange Area: 0.810m²
Reference: NT Ba-27-30
Condition New
Central Heating Systems' Heat Exchanger
Nordic Tec Ba-27-30
4x 1 1/4", 30 plates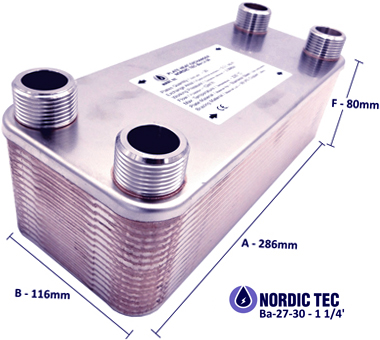 Technical details:

- Stainless Steel S316L, brazed with 99,9% Cu

- Connections: 4x 5/4", BSP

- Working Pressure - <30 bar

- Test Pressure - 45-60 bar

- Max. temperature +230°C

- Flowrate - 12 m³/h

- Heat Exchange Surface - 0.960 m²




Dimensions: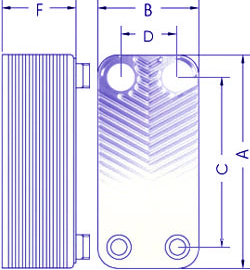 (A) - 286 mm
(B) - 116 mm
(F) - 80 mm
(C) - 234 mm
(D) - 63 mm

In DOWNLOAD section you get the data sheet of the unit.
________________________
The most common use of the Ba-27-30 heat exchanger with 5/4" connections:
The above plate heat exchanger was created for systems in which flow is of great importance and therefore it has an enlarged diameter of the connection. It can work both in heating and in refrigeration. When selecting, in addition to connections, of course, pay attention to the key parameter which is the heat exchange surface, in this case 0.81 square meters.
Due to the large connection size 1 1/4 inch - PHE Ba-27-30 is often used as a oil cooler or other medium in industry, but in fact it is also great for classic heating applications. It easily operates heating boilers, including, and perhaps above all in old, non-modernised buildings with a slightly outdated installation - it can do better than heat exchangers with 1-inch connections.
Customers who bought this product also bought:
Customers who bought this product also bought: