Plate Heat Exchanger NORDIC Ba-27-20 1 1/4" 125kW
Plate Heat Exchanger with DN32 - 1 1/4" (connection diameter)
NORDIC TEC
Model: NT Ba-27-20
A device for separating two parts of the system in heating or refrigeration. It works in applications that require free flows due to the diameter of connections in size 5/4" (larger than as standard in heat exchangers of comparable size).
Plate Q'ty: 20 pcs.
Connections: 1 1/4" BSP
Heat Exchange Area: 0.540m²
Reference: NT Ba-27-20
Condition New
Heat Exchanger with 5/4"
for home heating systems
Nordic Tec Ba-27-20
4x 1 1/4", 20 plates
Technical details:

- Stainless Steel S316L, brazed with 99,9% Cu

- Connections: 4x 5/4", BSP

- Working Pressure - <30 bar

- Test Pressure - 45-60 bar

- Max. temperature +230°C

- Flowrate - 12 m³/h

- Heat Exchange Surface - 0.540 m²




Dimensions: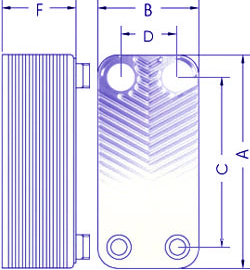 (A) - 286 mm
(B) - 116 mm
(F) - 55 mm
(C) - 234 mm
(D) - 63 mm

In DOWNLOAD section you get the data sheet of the unit.
________________
Application of the 20-Plate Heat Exchanger 1 1/4":

20-plate heat exchanger 5/4" in terms of construction is distinguished by a large diameter of connections in relation to the heat transfer area, which means that it can be predestined to systems that require greater flows with as lower pressure drop as possible. An example of such installations may be old central heating systems based on thicker pipes, where installing a 1-inch heat exchanger would mean a significant narrowing of the system.
The Plate Heat Exchanger Ba -27-20 model, apart from the above, can work with virtually any traditional heat source - it can be both a fireplace water jacket, a boiler for traditional fuel (coal, wood) and a boiler for a more modern fuel - such as, for example, a stove working in a closed system on pellets or condensing boiler.
From a theoretical point of view, this heat exchanger could also work with Heat Pumps - while the contraindication will be an insufficient heating exchange surface, because we must remember that HP require quite meticulous selection of the exchanger so that it can work efficiently and on low energy consumption.