Plate Heat Exchanger NORDIC Ba-16-32 1" 130kW
32-Plate Heat Exchanger for home heating systems
NORDIC TEC
Model: NT Ba-16-32


Plate Q'ty: 32 pcs.
Connections: 1" BSP
Heat Exchange Area: 0.512m²
Reference: NT Ba-16-32
Condition New
Heat Exchanger for 1 inch threads

Nordic Tec Ba-16-32
4x 1", 32 plates
Technical details:



Made of S316L Steel (plate material), soldered with 99,9% Cu/Copper


Connecting threads: 1", BSP


Working Pressure Range - from 0 till 20 bar


Tested with the pressure: from 20 till 40 bar


Temperature range: from -190°C till +230°C


Nominal flow - 8 000 l/h


Heat Exchange Surface - 0.512 m² (32 plates per 0.016 m²)



DIMENSIONS of Ba-16-32: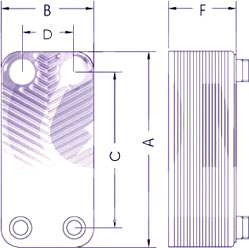 A - 220 mm
B - 90 mm

F - 80 mm

C - 180 mm

D - 52 mm
_____________________
A frequent question from installers:
1. Will the plate heat exchanger not clog quickly? How big is the space between the exchanger's plates?
Answer: When mounting at the exchanger's input on each side, it is recommended to mount mechanical filters. A simple thing, fully protecting the exchanger. The space between the plates in which water flows is about 2 - 2.2mm (the plates are corrugated to increase the heat exchange). This is enough to ensure safe work. Filter assembly has one more important advantage. In case of suspected any problems, it is enough to clean the filters instead of removing the exchanger.
Customers who bought this product also bought:
Customers who bought this product also bought: