Plate Heat Exchanger NORDIC Ba-16-24 1" 100kW
Plate Heat Exchanger
NORDIC TEC
Model: NT Ba-16-24


Plate Q'ty: 24 pcs.
Connections: 1" BSP
Heat Exchange Area: 0.384m²
Reference: NT Ba-16-24
Condition New
HVAC Heat Exchanger

Nordic Tec Ba-16-24
4x 1", 24 plates
Technical details:

- Stainless Steel S316L, brazed with 99,9% Cu

- Connections: 4x 1", BSP

- Working Pressure - <20 bar

- Test Pressure - 40 bar

- Max. temperature +230°C

- Flowrate - 8 m³/h

- Heat Exchange Surface - 0.384 m²



Dimensions: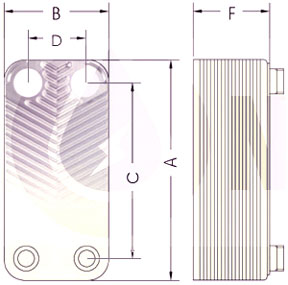 (A) - 220 mm
(B) - 90 mm
(F) - 61 mm
(C) - 180 mm
(D) - 52 mm
________________________
Frequent queries from customers reffering to PHE Ba-16-24:
1. Is the Ba-16-24 heat exchanger suitable for working with a 15 kW fireplace?
Reply: Yes, it is a good choice if we have a fireplace between 12 and 15kW and threads 1 inch (DN25) are required to connect.
2. Can the BA-16-24 heat exchanger clog?
Reply: Any exchanger that has been working in the installation can get clogged for many years. This is the effect of normal aging of hydraulic devices. However, this is rare before the expiry of 10-15 years. Of course, you should also ensure that the heat exchanger is installed in accordance with the art, i.e. it should have a filter at the entrance from each side.
Customers who bought this product also bought:
Customers who bought this product also bought: